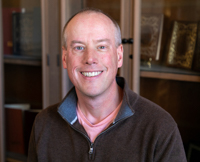 Jonathan Wheeler
Associate Professor
Data Curation Librarian
Research Data Services
Contact Information
Centennial Library L171
(505) 277-1687
jwheel01@unm.edu
Biography
Jon Wheeler is a Data Curation Librarian within the University of New Mexico's College of University Libraries and Learning Sciences. Jon's role in the Libraries' Data Services initiatives include the development of research data ingest, packaging and archiving work flows. Prior to joining the College in 2012, Jon provided access services at the University of North Carolina at Asheville's Ramsey Library and served as an environmental records coordinator on a contract to the White Sands Missile Range in southern New Mexico.
Jon's research interests include the requirements and usability of sustainable architectures for long term data preservation and the disposition of research data in response to funding requirements. Additional interests include workflow development in support of quality control and streamlined data storage, dissemination, archiving, and preservation.
Jon earned his master's degree in Library and Information Science from the University of Illinois at Urbana-Champaign in 2009.
Publications and Presentations
Articles
Jackson Amy S., Wheeler, Jonathan & Quinn, Todd (2015) Data Services and the Performing Arts, Music Reference Services Quarterly, 18:1, 13-25, DOI: 10.1080/10588167.2015.997072
Wheeler, Jonathan, and Karl Benedict. Functional Requirements Specification for Archival Asset Management: Identification and Integration of Essential Properties of Services-Oriented Architecture Products. Journal of Map & Geography Libraries 11, no. 2 (May 4, 2015): 155 79. DOI:10.1080/15420353.2015.1035474
Presentations
Comerford, Kevin & Wheeler, Jonathan (2012) Hosting Open Access Journals for the University and Beyond: The University of New Mexico Open Journals Portal. Presentation to the Coalition for Networked Information 2012 Fall Membership Meeting, 10-11 December, Washington, D.C.
Wheeler, Jonathan (2013) Introduction to Data Curation. Presentation to the New Mexico Library Association Preconference, 17 April, Albuquerque, New Mexico.
Wheeler, Jonathan & Koch, Steven (2013) Open Data: Policies, Priorities and Opportunities. Presentation to the Biomedical Informatics Seminar Series of the University of New Mexico Health Sciences Library and Informatics Center, 12 December, Albuquerque, New Mexico.
Wheeler, Jonathan. (2014, June 17) Evaluating the DataVerse Network: Connecting Open Data with Scholarly Communications [Webinar]. An ASIS&T Continuing Education webinar. Available from http://www.asis.org/Conferences/webinars/DLWebinar-6-17-2014-purchase.html.
Wheeler, Jonathan and Nash, Jacob. (2014). Preserving at Risk Content: A Development and Preservation Strategy for University Repositories. Poster presented at the Library Information Technology Association (LITA) Forum, 7 November, Albuquerque, New Mexico.
Wheeler, Jonathan and Smith, Plato (2015) Text Mining the Hathi Trust Corpus. Presentation to the University of New Mexico Data 2 Knowledge Day, 20 February, Albuquerque, New Mexico.
Wheeler, Jonathan (2015). Efficient, Scalable Integration of EML Metadata within a DSpace Repository. Presentation to the Digital Library Federation Forum, October 27, Vancouver, British Columbia.
Benedict, Karl, Mark Servilla, Kristin Vanderbilt, and Jonathan Wheeler (2015). Linking Data Repositories: An illustration of agile data curation principles through robust documentation and multiple application programming interfaces. Poster presented at the 2015 American Geophysical Union Fall Meeting, December 14-18, San Francisco, CA.