Employee Awards 2021
I am pleased to announce the winners of the 2021 Employee Awards. This recognition comes after a year defined by immense challenges – challenges that were met with innovation and operational agility. I would like to thank everyone who nominated a colleague and the Employee Award Committee for their dedication to making the 2021 award process successful.
It seems fitting that in this extraordinary year we celebrate an extraordinary group of Employee Award recipients. As a result, we recognize more employees in the Exemplary Employee and Project Implementation awards. Please join me in congratulating our outstanding colleagues.
Mark Emmons
Interim Dean College of University Libraries and Learning Sciences
---
Exemplary Employee Award Winners
Excerpts from each nomination form have been included.
Jennifer Dawn Eggleston
Conservation Technician | Center for southwest Research and Special Collections | University Libraries
Jennifer's day-to-day work of preservation is done at an exceptional level and she demonstrates an extraordinary commitment to providing the best service to the CSWR, CULLS, and the general public. Unlike most of us who get large projects dropped on us, Jennifer always greets CSWR staff with a smile when they wheel a cart full of work into her office. Jennifer always shows the graduate students some of the basic tools they will need for processing collections and demonstrates the best way to use them. She then gives each student their own set of supplies. Many of the graduate students have said that getting their own toolkit from Jennifer empowered them and made them feel like true professionals. Since COVID has changed much of how we work in the past year, Jennifer has gone even further above and beyond her duties to provide additional assistance to both her coworkers and the researchers of the CSWR. Jennifer has started doing reference shifts in the Anderson Reading Room so that the CSWR would have enough staff to meet the demands of our researchers. Though reference work was not part of Jennifer's regular job description, she supported and continues to support her colleagues with her time. Jennifer's contributions have positively impacted our department. Her skills, knowledge, and willingness to help other are the reason I am nominating her for the Exemplary Employee Award.
Modesto Garcia
Technical Analyst 2 | Information Technology | CULLS
Modesto takes full charge and responsibility to be sure we, his customers, are fully up and running again. Modesto's friendly and unassuming manner puts others at ease, especially when faced with situations that to the user are frustrating computer/IT issues. For his part, it seems like a walk in the park! He exemplifies the spirit that we are a team and he is here is to help to the best of his abilities. As we began to work from home Spring of 2020 I called on Modesto a number of times. Multiply that by the number of staff and faculty we have and I imagine he was very busy. But you wouldn't know it from his professionalism. He made the transition to working remotely an easy one and I, for one, was never left unconnected or "offline" due to the help he provided. It may be tempting to read this nomination and think, "yes, this is what our IT Department Reps are supposed to do," but I'm here to say, as one who has worked at other companies, and with many an IT Professional, Modesto stands at the top of the list.  For these reasons, for his help in keeping us all up and running, and for his efficiency, competence, and helpfulness, Modesto is truly deserving of the Exemplary Employee award.
Amy Mullins (she/her)
Unit Administrator 1 | Office of the Dean | CULLS
Amy goes above and beyond to help not only myself, but everyone in our unit. At the start of the pandemic, Amy prioritized communication. She consistently stayed connected and kept us all updated on new information and always considered our concerns and questions. Even after a year throughout the pandemic, Amy continues to keep the entire office connected by scheduling regular meetings and by creating a set schedule of when each of us are in the office. In January, Amy began taking on the duties and role of an HR representative on top of Amy's regular duties. These past few months the Dean's office has seen a huge transition with the recent retires in the office, a new interim Dean, and with the Dean's Search in progress. Amy has continued to be a great leader and has helped us all navigate these changes. During the month we waited for part-time employees to get hired, Amy helped to approve timesheets and leave sheets for the entire college and continues to help when we are short-handed. Recently, she helped in the OILS virtual convocation which involved multiple meetings a week and a rigorous planning leading up to the event. Amy goes above and beyond in her work and is always considering others. For these reasons, I believe Amy is an excellent candidate for the Exemplary Employee Award.
Jillian Rapp (she/her)
Fiscal Services Technician |  University of New Mexico Press
 It is not an overstatement to say that Jillian has transformed the Business Office at the Press. In the time she has been there, we have worked together to overhaul all UNM Press business procedures to reflect the UNM Press relationship with its distributor Longleaf. She is responsible for a great many areas in the UNM Press accounting cycle, and she handles all of them with a sharp attention to detail, a strict adherence to timelines, and thorough understanding of accounting principles. I routinely see extremely complimentary emails from authors who appreciate her work and thoughtful responses in this area. She makes UNM Press look good. Finally, and probably most importantly, Jillian is a great coworker. She has a really positive and respectful attitude at work. She makes the workplace (both in person and online!) a nicer place because of her contributions, both personally and professionally. The pandemic presented many challenges, and Jillian took them all in stride while continuing to provide excellent service to UNM Press. Jillian is truly an exemplary employee!
Raelynn V. Richardson (she/her)
Library Services Coordinator | Access Services | University Libraries 
Raelynn is the ideal example of an exemplary employee. At Parish library, she was in charge of Reserves and provided public service, circulation, and reference duties as needed. I experienced from the beginning her high level professionalism and dedication. During this time, she was in charge of closing Parish Library, from Sundays to Thursday. She performed all these duties responsibly and reliably. After being transferred to Zimmerman, she was promoted to Library Services coordinator and took on additional responsibilities consisting of billing and reserves. With the migration to WMS, Raelynn became one of the pivotal individuals working on patron types, loan rules and other routines in place for WMS support. She soon became the Circulation expert in WMS and began participating in training and supporting LIBROS consortium libraries with WMS circulation, patron types, and loan rules. During the last year, Raelynn was central to designing and supporting new loan services for patrons during the COVID-19 crisis. Due to constantly changing circumstances, this required strong and serious commitment. She is also working in creating patron types and loan rules for the SCR. Raelynn is highly respected and appreciated by fellow workers, student employees and patrons -- especially those who have issues with their accounts. She successfully explains the problems and works with them to resolve them. 
---
Project Implementation Award
Access Services Leadership Team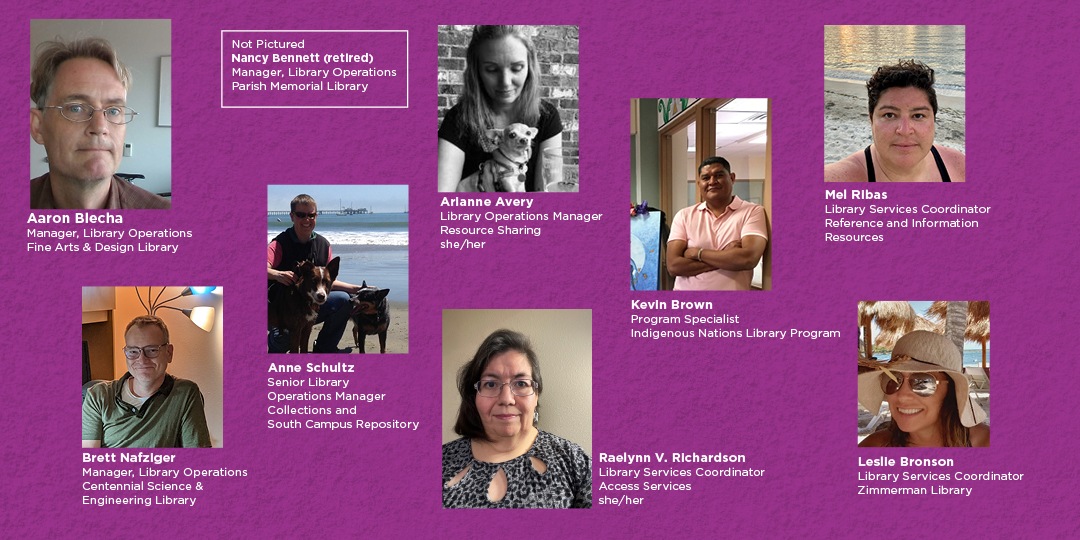 Arianne Avery | Nancy Bennett | Aaron Blecha | Leslie Bronson | Kevin Brown
Brett Nafziger | Mel Ribas | Raelynn V. Richardson | Anne Schultz
This nomination does not reference only one project, but many amidst the circumstances of an unusual and uniquely challenging year+. Many employees faced challenges during the past year. In this nomination, I recognize the work carried out by the Access Services Leadership (ASL) team, who worked incredibly hard to lead and support multiple projects that allowed the library to offer many onsite and offsite services. Access Services had to rethink nearly all that we do: providing access to local collections and "when possible" to other research collections through resource sharing; assisting our campus and broader community with questions; redefining and resetting our public spaces; easing concerns and facilitating access to items that individuals needed to retrieve, retain, or return; supporting our large student workforce; and working to keep remote and onsite colleagues both safe and engaged. Many of the projects this group worked on are core to offering what our campus thinks about when they think about the library. ASL worked together to design, redesign, and implement multiple projects providing collections access during the past year, including carryout, appointments, and open access models. Many projects necessitated revised training and workflows to deliver services and to keep everyone as safe as possible. We heard from several student employees how much this meant to them. Team members also worked to keep offsite teams informed by regularly sharing updates, getting together formally/informally, and providing resources and forums for our student employees. ASL members provided each other with large and small levels of tangible assistance and support, helping to share workload and making it possible for others to stay offsite. The ASL team has been a creative, responsive and caring group. They successfully carried out multiple critical projects during an incredibly challenging time. They exemplify the qualities of a strong team.
Project Implementation Award
Resource Sharing Team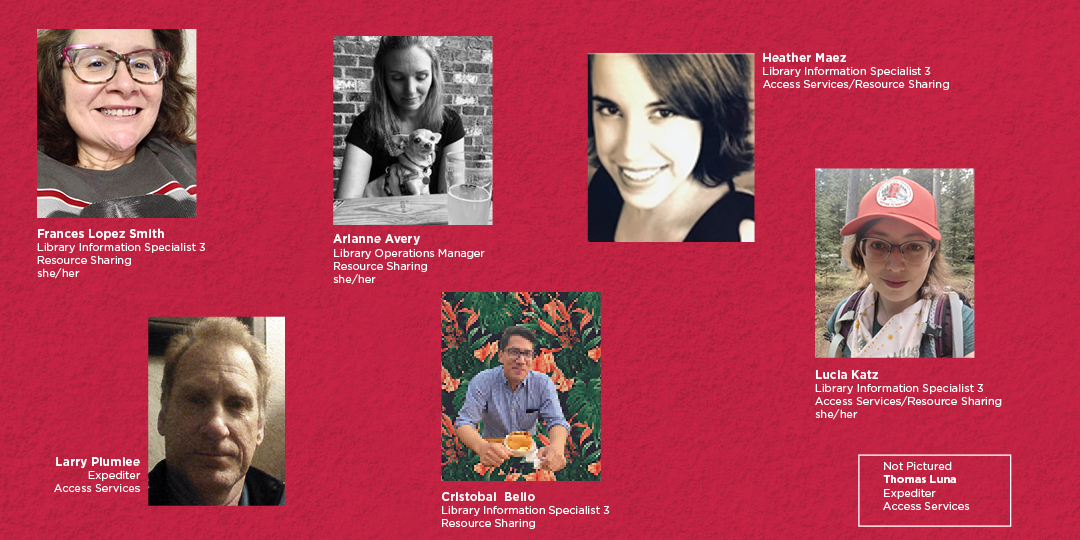 Arianne Avery | Cristobal Bello | Lucia Katz | Thomas Luna
Heather Maez | Larry Plumlee | Frances Lopez Smith
During shut-down, the Resource Sharing Team went above-and-beyond to provide an extraordinary level of access to UNM's faculty and students. Working remotely (and occasionally on-site), they delivered a wealth of digital articles, ebooks and scanned material - helping our community pivot from research with physical documents to a virtual, stay-at-home research environment. Furthermore, Resource Sharing worked extensively with the Hathi Trust to ensure as much virtual access as possible. This team consisted of Arianne Avery, Cris Bello, Frances Lopez-Smith, Lucia Katz, and Heather Maez, with on-site scanning assistance from Larry Plumlee and Tom Luna.