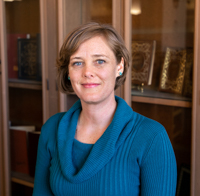 Adrienne Warner
Assistant Professor
First Year Experience Librarian
Learning and Outreach Services
Contact Information
Centennial Library L260
(505) 925-9689
adriennew@unm.edu
Biography
In her role as the First Year Experience Librarian, Adrienne collaborates with new undergraduate students, campus organizations, faculty, staff, and high school students to support academic growth. She provides instruction sessions grounded in information literacy principles and structured to foster curiosity. She is interested in understanding online help-seeking behavior and the role of reflective practice in students' research processes.
In her previous position as the Library Services Coordinator for Reference within University Libraries, Adrienne planned and coordinated reference and information service provision. She worked with colleagues to provide research help in person and across online service points. Before coming to work at University Libraries, Adrienne worked as a librarian in the Albuquerque public library system for many years.
Adrienne holds a Bachelor of University Studies from the University of New Mexico, with concentrations in Women's Studies, art, and writing. She earned a Masters of Library Science from Texas Woman's University.