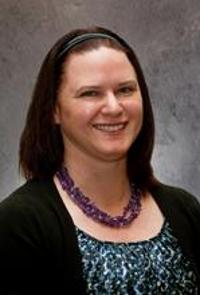 Portia Vescio
University Archivist
Center for Southwest Research and Special Collections (CSWR)
Contact Information
Zimmerman Library 127G
(505) 277-0278
pvescio@unm.edu
Biography
Portia Vescio began working at the University of New Mexico in May 2016 as the University Archivist. She is responsible for collecting, cataloging, and promoting the university's historical documents and photographs.  Prior to arriving at UNM, Portia was the assistant director of the University Archives & Historical Collections at Michigan State University.  She was at MSU for nearly 14 years and during her time there taught a freshman seminar, developed a reference training program, started the department outreach and instruction programs, and taught adult education classes.  Prior to her time at MSU she spent nearly two years at New Mexico State University as a manuscripts librarian for the Rio Grande Historical Collections.  Portia received her MLIS degree from Indiana University and her BS in Chemistry from the Massachusetts Institute of Technology.
Portia has been actively involved in archival organizations since receiving her degree.  She has served on many committees for various archival organizations and co-planned an international archival conference in 2005. 
Papers and Presentations
"Sex, Drugs, and Rock 'n' Roll: How I Learned to Stop Worrying and Embrace the Boomers," Midwest Archives Conference Annual Meeting, April 20, 2013
"From Scrapbook to Facebook:  Using Social Media in Archival Instruction." Journal for the Society of North Carolina Archivists.  Fall 2011, Volume 9, Number 1, pp. 66-76.
"Archival Techniques for the Genealogist: Action to Properly Preserve your Documents, Data, Photos and Scrapbooks," Ingham County Genealogical Society Meeting.  September 22, 2011.
"Records Management: What you Need to Know, What you Need to Throw!"  Michigan Association of Collegiate Registrars and Admissions Officials.  November 11, 2010.
"The Legacy of the Past: Faculty Collections in the University Archives & Historical Collections," Lifelong Library Faculty Emeriti Program.  October 8, 2010.
"Lucia Grimes: A Suffrage Success Story," Michigan History.  May/June 2010.
"Understanding Today's Students."  Conference Paper.  ICA/SUV 2007 Annual Conference, Dundee Scotland.  August 13-17, 2007.
"The Evolving Mission:  The History of MSU and its University Archives."  Conference Paper.  ICA/SUV 2005 Annual Seminar, East Lansing, MI.  September 6-9, 2005.
"From Beanies to Body Piercings: Documenting Student Life."  Conference Paper.  MAC Fall Meeting, October 2003.