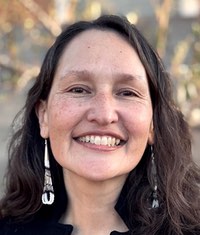 Lori Townsend
Associate Professor
Assessment Coordinator and Learning Services Librarian
Learning and Outreach Services
Contact Information
Centennial Library L259A
lt@unm.edu
Biography
Lori Townsend (Shoshone-Paiute) is the Learning Services Coordinator and a Social Sciences Librarian for the University Libraries. Her research interests include cultural humility, genre theory and information literacy, undergraduate understandings of digital sources, and source evaluation. 
Lori holds a BA in history from the University of New Mexico and an MLIS from San Jose State University. Before coming to UNM, she worked as the Electronic Collections Librarian at California State University, East Bay from 2005-2010. 
Recent Presentations & Publications
Kostelecky, S.R., Townsend, L., & Hurley, D.A. (Eds.) (expected 2022). Hopeful visions, practical actions: Cultural humility in library work. ALA Editions. https://www.alastore.ala.org/hvpa
Russo, A., Jankowski, A., Beene, S., & Townsend, L. (2019). Strategic source evaluation: Addressing the container conundrum. Reference Services Review, 47(3), 294-313. https://doi.org/10.1108/RSR-04-2019-0024
Hurley, D., Kostelecky, S., & Townsend, L. (2019). Cultural humility in libraries. Reference Services Review. https://doi.org/10.1108/RSR-06-2019-0042 
Hofer, A. R., Lin Hanick, S. and Townsend, L. (2019). Transforming information literacy instruction: Threshold concepts in theory and practice. Santa Barbara, CA: ABC-CLIO. https://www.abc-clio.com/LibrariesUnlimited/product.aspx?pc=A4947P

Koelling, G., & Townsend, L. (2019). Research clinics: An alternative model for large-scale information literacy instruction. Communications in Information Literacy, 13(1), 75-90.