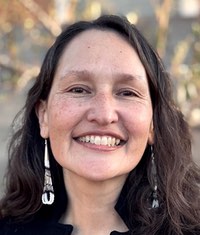 Lori Townsend
Associate Professor
Learning Services Coordinator
Learning Services
Contact Information
Centennial Library L259
(505) 277-0419
lt@unm.edu
Biography
Lori Townsend is the Learning Services Coordinator and Engineering Librarian for the University Libraries. Her research interests include threshold concepts and information literacy, academic librarians of color and cultural humility. 
Lori holds a BA in history from the University of New Mexico and an MLIS from San Jose State University. Before coming to UNM, she worked as the Electronic Collections Librarian at California State University, East Bay from 2005-2010. Lori is a member of the Shoshone-Paiute Tribes of Duck Valley.
Selected Presentations & Publications
Hofer, A. R., Lin Hanick, S. and Townsend, L. (forthcoming November 2018). Transforming information literacy instruction: Threshold concepts in theory and practice. Santa Barbara, CA: ABC-CLIO. https://www.abc-clio.com/LibrariesUnlimited/product.aspx?pc=A4947P

Jankowski, A., Russo, A., & Townsend, L. (2018, May 16). "It was information based": Student reasoning when distinguishing between scholarly and popular sources. In the Library with the Lead Pipe. Retrieved from http://www.inthelibrarywiththeleadpipe.org/2018/it-was-information-based/
Kostelecky, S., Hurley, D., & Townsend, L. (2017, May). Cultural humility and libraries: An alternative to culture competence. Webinar presented through the ALA Office for Diversity, Literacy, and Outreach Services. Watch the recorded presentation here: http://ala.adobeconnect.com/p2crzrhn0r8c/ 
Townsend, L., Hofer, A. R., Lin Hanick, S. and Brunetti, K. (2016). Identifying threshold concepts for information literacy: A Delphi study. Communications in Information Literacy, 10(1), 23-49.
Hofer, A.R., Lu, S., & Townsend, L. (2015, April). What's the big idea?! Incorporating threshold concepts into your teaching practice. Keynote at the Information Literacy Summit, Palos Hills, IL.  Watch the recorded presentation: https://youtu.be/OSahSjLBf-w
Townsend, L., Brunetti, K., & Hofer,  A. R. (2011).  Threshold concepts and information literacy.  portal: Libraries and the Academy, 11(3),  853-869. doi:10.1353/pla.2011.0030