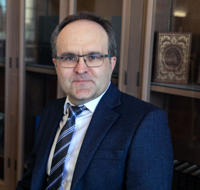 Oleksandr "Alex" Tkachenko
Assistant Professor
Organization, Information and Learning Sciences
Contact Information
Zimmerman Library 241
(505) 277-7241
tkachenko@unm.edu
Biography
Oleksandr "Alex" Tkachenko joined the OILS program in August 2017 as a graduate from the PhD program in Human Resource Development (HRD) at the University of Minnesota, where he also received a PhD minor in Business Administration from the Carlson School of Management. Prior to joining the PhD program, Oleksandr had worked as a trainer, manager, and consultant in the Netherlands and in Ukraine. Oleksandr has published articles in such journals as Human Resource Development Review,The Journal of Workplace Learning, and Human Resource Development International.
Selected Publications
Tkachenko, O., & Ardichvili, A. (2017). Cultural-historical activity theory's relevance to HRD: A review and application. Human Resource Development Review. 16(2), 135-157.
Collins, J.C., Zarestky, J., & Tkachenko, O. (2017). An integrated model of Critical HRD and National HRD: Considering new possibilities for Human Resource Development. Human Resource Development International. 20(3), 236-252.
Tkachenko, O., & Seashore Louis, K. (2017). Re-shaping the faculty: Emergence and development of "permanent-contingent" roles through the lens of cultural-historical activity theory. International Journal of Higher Education, 6(1), 140-152.
Tkachenko, O., Hahn, H.J., & Peterson, S. (2016). Theorizing the research-practice gap in the field of management: A review of key frameworks and models. In C. Hughes and M. Gosney (Eds.). Bridging the Scholar-Practitioner Gap in Human Resources Development (pp. 101-119), Hershey, PA: IGI Global.
Ardichvili, A., Zavyalova, E., & Tkachenko, O. (2016). HRD in Russia and the Former Soviet Union. In T. Garavan, A. McCarthy, and M. Morley (Eds.), Global Human Resource Development (pp. 289-306). New York, NY: Routledge.
Tkachenko, O. (2015). Recognizing Eli Ginzberg and Human Resources: The Wealth of a Nation (1958): Where are the seeds of (national) HRD? Human Resource Development International, 18(1), 105-112.
Rana, S., Ardichvili, A, & Tkachenko, O. (2014). A theoretical model of the antecedents and outcomes of employee engagement: Dubin's method. Journal of Workplace Learning,26(3/4), 249-266.
Tkachenko, O., & Ardichvili, A. (2013). Human capital development in Central and Eastern Europe: An analysis of trends and challenges facing Estonia, Hungary, the Czech Republic, and Slovenia. Human Resource Management (Zarzadzanie Zasobami Ludzkimi) [HRM(ZZL)],6(95), 67-88.