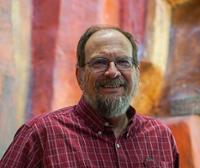 Gary Smith
Professor
Associate Dean for Continuous Professional Learning at School of Medicine
Contact Information
Zimmerman Library 236A
(505) 277-0484
gsmith@salud.unm.edu
Biography
Gary Smith is both a Professor in OILS and Associate Dean for Continuous Professional Learning at UNM's School of Medicine. He was a faculty member in UNM's Earth and Planetary Sciences Department for 28 years prior to joining OILS in 2015 and has been a leader of teaching professional learning programs on UNM's main and health sciences campuses since 2006. 
Dr. Smith's scholarly interests parallel his administrative activities in educational and organizational development. This work includes curriculum and instructional design in higher education and professional-learning programs, motivating and managing effective change process in educational organizations, and the transfer of research to practice in both professional development and higher education instruction.
Dr. Smith received his PhD in geology at Oregon State University and his BS in geology with a specialization in geophysics from Bowling Green State University.
Selected Publications
Smith, G.A. & Stark, A.M. (2017). Enhancing continuing professional development with insights from implementation science. In W. Rayburn, D. Davis, & M. Turco, (Eds).

 

Continuing Professional Development in Medicine and Health Care: Better Education, Better Patient Outcomes.

 

New York, Wolters Kluwer. 305-322.
Rayburn W.F., Smith G.A., McGuire B.L., & Skipper B.J. (2017). A simple flip of an obstetrics clerkship lecture focusing on interactive learning. MedEdPublish. 6:24.
Smith, G. A. (2016). Transformed by the learners. In S. D. Longerbeam and A. F. Chavez (Eds.),

 

Going Inward: The Role of Cultural Introspection in College Teaching. New York, Peter Lang. 132-140.
Stark, A. M. & Smith, G. A. (2016). Communities of practice as agents of future faculty development.

 

Journal of Faculty Development, 30(2), 59–67.
Smith, G. A.  (2015). Why college faculty need to know the research about learning.

 

Insight,

 

A Journal of Scholarly Teaching,

 

10, 9-18.
Smith, G. A. & Bermea, S. B. (2012). Using students' sketches to recognize alternative conceptions about plate tectonics persisting from prior instruction.

 

Journal of Geoscience Education,

 

60(4), 350–359.
Smith, G. A. (2008). First day questions for the learner-centered classroom.

 

National Teaching and Learning Forum,

 

17(5), 1–4.
Smith, G. (2007). How does student performance on formative assessments relate to learning assessed by exams?

 

Journal of College Science Teaching,

 

36(7), 28–34.