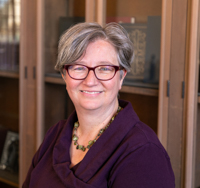 Stephanie Moore
Assistant Professor
Organization, Information and Learning Sciences
Contact Information
Zimmerman Library 236A
(505) 277-0484
stephaniemoore@unm.edu
Biography
Stephanie Moore is Assistant Professor in the Organization, Information, and Learning Sciences program and is the Barbara Bush Foundation / Dollar General Foundation Fellow. Her work with these foundations focuses on the use of learning technologies for adult literacy and guidance for foundations wishing to invest in the development in learning technologies. Her research includes the use of performance improvement for assessing the needs of new teachers and developing targeted micro-instruction as well as the development of effective online and blended human resources workforce development for the federal government that can lead to eventual certification. She presently consults with clients on a range of projects including online learning, the use of technology for learning, and organizational performance improvement. Her areas of expertise include online and blended learning, educational / learning technologies, multimedia learning, performance improvement, ethics of technology and integration of societal impact into the design and planning process, as well as a deep background in accessibility and UDL.
Prior to joining the OILS program, she was Assistant Professor of Instructional Design & Technology in the Curry School of Education and Human Development at University of Virginia where she taught instructional design, performance improvement, online learning, and ethics for learning and workplace technology. In 2018, she received the Casteen Teaching Fellowship, named for the former president of the University of Virginia, and accompanying grant from the Institute for Practical Ethics and Public Life to further develop her work on ethics of learning technologies. Across her career, she has helped to build and lead effective online learning programs that have won multiple awards and recognitions such as the AACTE Innovation of the Year Award and the Leadership in Education award presented by the Southern Piedmont Technology Council. The latest online program for which she led the development is now ranked #3 in its category.
She has served as President of the Division for Systemic Change in the Association for Educational Communications and Technology (AECT) and as President of the AECT Foundation. She has presented at the International Society for Performance Improvement. Recent awards include the AECT Presidential Award for Excellence and Award for Distinguished Service to the Change Division. She is presently the Editor-in-Chief of the Journal of Computing in Higher Education and is also a speaker for the US Speakers Program at the US Department of State through which she consults with foreign embassies on effective online learning.
Selected Publications
Moore, S. L. (2020). Designing Interactive Online Courses – Quick Reference Guide. Norton.
Moore, S. and Hodges, C. (2020). Practical Advice for instructors facing the abrupt move to online teaching: So you want to temporarily teach online. March 11, 2020. Inside Higher Ed:https://www.insidehighered.com/advice/2020/03/11/practical-advice-instructors-faced-abrupt-move-online-teaching-opinion
Hodges, C., Moore, S., Lockee, B., Trust, T., and Bond., A. (2020). The Difference Between Emergency Remote Teaching and Online Learning. March 27, 2020. Educause Review:https://er.educause.edu/articles/2020/3/the-difference-between-emergency-remote-teaching-and-online-learning
Moore, S. and Hill, P. (2020). Planning for Resilience, not Resistance. April 28, 2020. PhilOnEdTech: https://philonedtech.com/planning-for-resilience-not-resistance/
Moore, S.L., & Ellsworth, J. (2014). Ethics and standards in educational technology. In J.M. Spector Editor, M.D. Merrill Editor, J. Elen Editor, & M.J. Bishop Editor (Eds.), Handbook of research on educational communications and technology, 4th ed. (pp. 113-127).  New York: Springer.
Moore, S. L. (2013). Ethics as design: Rethinking professional ethics as part of the design domain. In B. Hokanson Editor & A. Gibbons Editor (Eds.), Design in educational technology (pp.185-204). New York: Springer.
Moore, S., May, D., and Wold, K. (2012). Developing cultural competency in engineering through transnational distance learning.  In R. Hogan Editor, Transnational Distance Education and Building New Markets for Universities (pp 210-228). Hershey, PA: Information Science Reference, IGI Global.
Books:
Moore, S. L. (under contract). Social and Emotional Learning (SEL) at a Distance: Supporting Students Online. Norton.
Moore, S. L. (under contract).  Ethics in educational technology: A design-based approach. (tentative title).  Routledge / Taylor & Francis.
Moore, S.L. (2010). Ethics by design: Strategic thinking and planning for exemplary performance, responsible results, and societal accountability.  HRD Press.