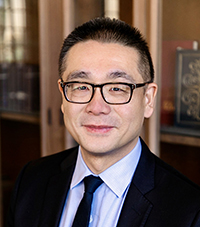 Leo S. Lo
Dean/Professor
Office of the Dean
Contact Information
Zimmerman Library 215
(505) 277-2678
leolo@unm.edu
Biography
Dr. Leo S. Lo (he, him, his) joined the University of New Mexico as Dean and Professor of the College of University Libraries and Learning Services (CULLS) in September 2021. He oversees over 120 full time faculty and staff and provides leadership for all University Libraries operations, Organization, Information, and Learning Sciences (OILS) programs, and the UNM Press.
Previously, Dr. Lo served as Associate Dean for Learning, Undergraduate Services and Commonwealth Campus Libraries at the Pennsylvania State University Libraries (2019 - 2021), Associate University Librarian for Research and Learning at Old Dominion University (2016-2019), Head of McLure Education Library/Associate Professor at the University of Alabama (2014 – 2016), and Research and Development Librarian/Assistant Professor at Kansas State University (2009 -2014).
Dr. Lo's primary research interests include open access, higher education management, organization development and leadership. He has presented at prestigious national and international conferences such as the American Library Association (ALA) Annual Conference, Association of College and Research Libraries (ACRL) National Conference, Association of Research Libraries (ARL) Assessment Conference, Australia Library and Information Association (ALIA) National Conference, and International Conference on Qualitative and Quantitative Methods in Libraries (QQML). Dr. Lo has also published in refereed journals such as portal: Libraries and the Academy, College and Research Libraries, Journal of Librarianship & Scholarly Communication, Journal of Library Administration, and Communications in Information Literacy. He has served on the Library Leadership and Management Journal Editorial Board and is currently the Chair of the ACRL College and Research Libraries News Editorial Board.
Dr. Lo holds a Doctor of Education (Ed.D) from the University of Pennsylvania, M.S. in Library and Information Studies degree from Florida State University,  M.A. in Survey Research from the University Connecticut, M.F.A. in Screenwriting from Hollins University, and a B.A. in Interdisciplinary Studies from the University of Texas at Arlington.