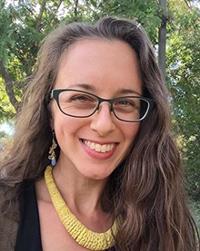 Amy Jankowski
Assistant Professor
Subject Librarian
Learning and Outreach Services
Contact Information
Centennial Library L166
(505) 277-1186
ajankowski@unm.edu
T 10 am - Noon   W 2 - 4 pm  
Biography
Amy Jankowski is the Life Sciences subject librarian for the UNM Libraries. Through this position, she focuses on outreach and liaison activities with the Biology Department, Sustainability Studies Program, and other campus units with connections to the life sciences. She conducts one-on-one research consultations with students, faculty, and staff; provides information literacy instruction for life sciences courses; assists with data management planning; and selects library materials in life science subject areas. Amy is excited to work with students, faculty, and the community to support information needs, enhance learning, and advance scholarship. Her scholarly interests include exploring creative ways to understand, analyze, and meet the information needs of life science students and faculty. She is also interested in the intersections between the sciences, special collections, and archives. 
Before coming to UNM, Amy worked as the Associate Director of Library Services for San Diego Zoo Global, where she supported the research and daily information needs of scientists, zookeepers, horticulturalists, veterinarians, educators, and affiliated students. In addition to reinforcing her fascination with plants and animals, Amy's work with San Diego Zoo Global strengthened her passion and curiosity for ecology, conservation biology, and sustainable practices. 
Amy earned her MLS with a specialization in Archives and Records Management from Indiana University Bloomington and her BA in Anthropology from the University of Illinois at Urbana-Champaign. Her prior library and collections experience includes work in archives, special collections libraries, and museums.