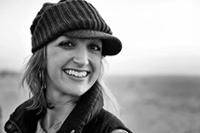 Stephanie Beene
Assistant Professor
Subject Librarian
Learning and Outreach Services
Contact Information
Fine Arts and Design Library 435
(505) 277-0679
sbeene@unm.edu
Biography
Stephanie Beene is Assistant Professor and Fine Arts Librarian for Art and Architecture at the Fine Arts and Design Library, within the College of University Libraries & Learning Sciences at the University of New Mexico. Prior to this position, she was the Visual Resources and Arts Librarian at Lewis & Clark College in Portland, Oregon, from 2009-2015, where she developed the Senior Art Digital Archive, an ongoing project involving Lewis & Clark's Senior Studio Art Majors, and served as the Project Director for accessCeramics, an online ceramic arts resource, taking it from a grant-funded project to a self-sustaining digital resource international in scope. She has also served on the Association for College and Research Libraries Visual Literacy Advisory Group from 2010-2012, helping to draft the Visual Literacy Competency Standards and Guidelines for Higher Education, which allowed her to lead initiatives across the College of Arts & Sciences and the Graduate School for Teacher Education at Lewis & Clark. As a key member of the Pacific Northwest Orbis Cascade Alliance's project to link the Northwest Digital Archival holdings with online digital collections (an ongoing project which began in 2010 with IMLS funding), she assisted with backend metadata structures, digital content streams, and the decision to begin to integrate with the Digital Public Library of America. She has also held positions at the University of Texas at Austin, the Harry Ransom Center, and the University of California, Riverside.
She earned her Masters of Science degree in Information Studies from the University of Texas at Austin. While there, she worked with Patricia Galloway on Digital Preservation and Electronic Archives, in particular the Warren Spector Email Archives for the Dolph Briscoe Center for American History; Past-ALA President Loriene Roy on the IMLS-funded WGBH-PBS Initiative "We Shall Remain," a retelling of Native American histories through Native American narratives; and Elizabeth Schaub in the School of Architecture's Visual Resources Collection, to build a digital image asset database.
Stephanie also holds a Master of Arts degree in Art History from the University of California, Riverside, where she worked with Karl Taube on Mayan and Mesoamerican anthropology, Patricia Morton on architecture and urbanism, with a focus on the Los Angeles area, and served as a Gluck Fellow from 2005-2007, giving studio art instruction to k12 schools in the Riverside area. Her Masters Thesis focused on the politics of identity among Mexican-American artists, as represented by the linguistic and conceptual play conveyed in the artwork and was informed by collaborations with Drs. Stella Nair, Catherine Wall, Ken Rogers, and Pat Morton.
She earned a Bachelor of Arts from Colorado State University in Fort Collins, Colorado, where she studied with Catherine DiCesare in Castiglione Fiorentino, Italy, for a summer abroad and more broadly focused on 16th Century Mexican manuscripts. She also studied extensively under Patricia Coronel, spending an intensive week of anthropological and art historical study at the ruins of Mesa Verde.
SELECTED PRESENTATIONS & PAPERS (2010-2015):
 
• "Pedagogical Practices Across the Disciplines: Arts & Sciences Converge" (Visual Resources Association Annual Conference 2015) (With Christine Malinowski, Research Fellow for Data Management, MIT Libraries, Former Data Services and Science Librarian, Lewis & Clark College) [https://goo.gl/ZduwAl]
 
• "Visual Resources in a Digital World: Pedagogical Practices in the digital humanities, archives, & the liberal arts" (Visual Resources Association Annual Conference, 2015) [https://goo.gl/Ukxibs]
 
• "CSI: Capturing the essence, preserving the past, Building the Senior Studio Art Digital Archive" (Visual Resources Association Annual Conference, 2013) [http://goo.gl/MCgPPL]
 
• "Eyes Opened: Visual Resources for Visual Literacy, Critical Inquiry for Today's World" (Visual Resources Association Annual Conference, 2013) [http://goo.gl/rFQr6r]
 
• "Adventures in Seeing: Critical Engagement with Images, Implementing Visual Literacy Standards & Guidelines @ Lewis & Clark" (Visual Resources Association Annual Conference, 2012) [slides: http://goo.gl/5v6UgJ talk: https://goo.gl/lkdFQj]
 
• 2010 Closing Plenary: Collections of Distinction: Adding Value to the Online Community of Visual Resources: "accessCeramics.org, a digital image database collaboratively sourced using
Flickr" (Visual Resources Association Annual Conference, 2010) [http://goo.gl/YFDlUf and http://goo.gl/CNT7ry]
 
• Presentation for the ACRL Image Research Interest Group: "Implementing Visual Literacy Standards & Guidelines at Lewis and Clark College" (National American Library Association Annual Conference , 2012) [slides: https://goo.gl/U29uMG talk: https://goo.gl/NJ9i4t]
 
• Invited Poster: "The Library as a Stage: Devised scripts and the Library's Successful Collaboration & Outreach with the Theatre Department" (Art Libraries Society of North America Annual Conference, 2013) [poster: https://goo.gl/SORvGA and handout: https://goo.gl/AmmLbS]
 
• "Non Nobis Solum: Building Cultural Heritage Collections Together: AccessCeramics, A Global, Collaborative, Approach to Building a High-Quality Collection of Ceramic Arts Images" (Art Libraries Society of North America Annual Conference, 2013) [https://goo.gl/asnPSW]
 
• Invited paper: "Pedagogical Practices Across the Disciplines: Arts & Sciences Converge" (With Associate Professor of Biology, Norma Velazquez-Ulloa, and Christine Malinowski, Research
Fellow for Data Management, MIT Libraries/Former Data Services and Science Librarian, Lewis & Clark College) (Northwest 5 Consortium, Visual Culture Colloquium, 2015) [https://goo.gl/6AZgYe]
 
• Invited presentation: "The BEAM Method: A framework for research as a process" (The University of New Mexico, 2015) [https://goo.gl/Q3lxAz]
 
• "YouTeach! 'Crash Course' mini-videos & the liberal arts" (Lewis & Clark College, 2015) (With Associate Professor of Psychology, Diana Leonard) [https://goo.gl/pUiZRX]
 
• "Student Multimedia Collaborative Projects" (Lewis & Clark College, 2015) (With Assistant Director of Research and Assessment, Lewis & Clark Graduate School of Teacher Education & Counseling Psychology, Damian Miller) [https://goo.gl/5hFPxE]
 
• "Designing Curricula with Visual Media" (Lewis & Clark College, 2013) (With Julio Appling, Educational Technologist, Lewis & Clark College) [https://goo.gl/CtIOBa]
 
• "Visual Literacy Discussion & Activity for the 2012 Faculty Technology Institute" (Lewis & Clark College, 2012) [https://goo.gl/cxB8Ft]