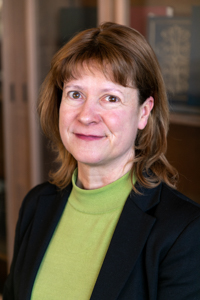 Cindy Pierard
Associate Professor
Director of Access Services, Undergraduate Engagement, and Special Assistant to the Dean for Disaster Response and Recovery
Access Services
Contact Information
Zimmerman Library 220
(505) 277-0280
cpierard@unm.edu
Biography
 Cindy joined the Libraries in July 2014 as Director of Access Services & Undergraduate Engagement. She holds a Bachelor's degree in International Studies from Earlham College, and a Master's degree in Library and Information Science from Indiana University with additional graduate work at the IU School of Journalism. Before coming to UNM, Cindy served as Head of Reference & Research Services at New Mexico State University and in a variety of public services positions at the University of Kansas Libraries.
Cindy provides overall direction and leadership for Access Services, which includes the areas of circulation, reserves, collection maintenance, space management, resource sharing and delivery, and information and reference services, working across three main campus library facilities as well as online.  In her undergraduate engagement role, she collaborates with University Libraries and campus partners to develop and strengthen services for undergraduate students; she also works with the Indigenous Nations Library Program team to further their mission of promoting outreach and student success. As Special Assistant to the Dean for Disaster Response and Recovery, Cindy leads and coordinates activities of the ULLS Disaster Response and Assistance Team (DRAT), managing response and recovery, overseeing arrangements for emergency preparedness training, and updating the ULLS Emergency Plan.
PUBLICATIONS (recent selected)
Baca, O., Pierard, C., & Schultz, A. (2020). Connecting student employment to student learning and development. National Institute for Learning Outcomes Assessment (NILOA) Assessment in Practice. https://www.learningoutcomesassessment.org/wp-content/uploads/2020/07/AiP-BacaPierardSchultz.pdf [Invited]
Pierard, C., Svihla, V., Clement, S., & Fazio, B. (2020). Undesirable difficulties: Investigating barriers to students' learning with ebooks in a semester-length course. College & Research Libraries, 81(2), 170. https://doi.org/10.5860/crl.81.2.170
Pierard, C., & Baca, O. (2019). Finding the sonic sweet spot: Implementing a noise management program in a library learning commons. Journal of Access Services, 16(4), 125-50. https://doi.org/10.1080/15367967.2019.1649985
Jackson, A., Pierard, C., & Schadl, S. (Eds.). 2019. Scholarship in the sandbox: Libraries as laboratories, forums, and archives for student work. Chicago, IL: Association of College & Research Libraries.
Beene, S., & Pierard, C. (2018). RESIST: A controversial display and reflections on the academic library's role in promoting discourse and engagement. Urban Library Journal, 24(1), https://academicworks.cuny.edu/ulj/vol24/iss1/6
Pierard, C., Shoup, J., Clement, S. Emmons, M., Neely, T., & Wilkinson, F. (2017). Building back better libraries: Improving planning amidst disasters. The Future of Library Space (pp. 307-333). Bingley: Emerald Group Publishing Limited. https://doi.org/10.1108/S0732-067120160000036014
Pierard, C. & Bordeianu, S. (2016). Learning commons reference collections in ARL libraries. Reference Services Review, 44(3), 411-430. http://dx.doi.org/10.1108/RSR-02-2016-0014
Pierard, C., Smith, J. & Wells, C. (2015). Let the sunshine in: Promoting community engagement with Sunshine Week. In S. Bonnand & M. A. Hansen (Eds.), Innovative solutions for building community in academic libraries. (pp. 157-178). Hershey, PA: IGI Global. https://digitalrepository.unm.edu/ulls_fsp/113/