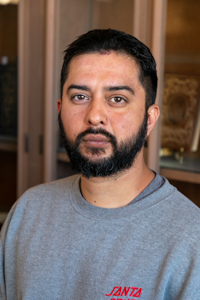 Miguel Cortez
Administrative Assistant 2
Organization, Information and Learning Sciences
Contact Information
Zimmerman Library 242B
(505) 277-4131
cortezm@unm.edu
Biography
Miguel Cortez joined the OILS program in December of 2018, and is a University of New Mexico Anderson School of Management alumni. Miguel received his B.B.A. in Entrepreneurial Studies in 2018, and his Associate of Arts in Business Administration from Central New Mexico Community College in 2016. Miguel will be working with the master's degree students and the faculty to provide support, and assist in facilitating the program.
"I'm very proud to be supporting and helping other Lobo's now. My goal is to make their academic goals achievable and rewarding."
Miguel plans on helping to grow the OILS program and he would like to start a business eventually. Miguel enjoys playing pool, training and playing with his dogs, he is a movie lover and MCU fan and enjoys spending time hiking in New Mexico's wonderful trails. Miguel is also interested in pursuing his level 1 archery license. If you are interested in the OILS program or need help with anything in this department please feel free to reach out to him and he will be more than happy to assist you in any way he can.